4 Easy Steps to a Stylish Rental Kitchen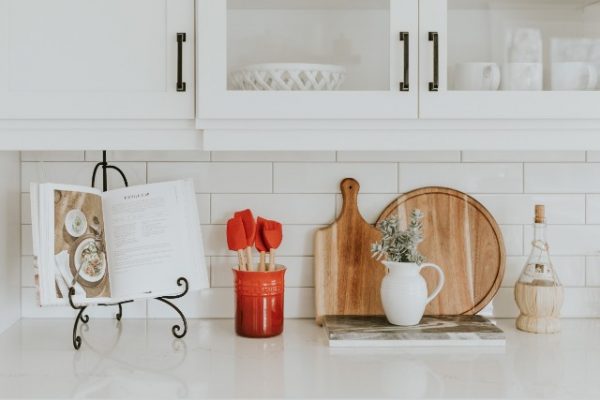 If you love to cook, you probably spend many of your non-working hours in the kitchen. So why not make it a space that you really enjoy? Here's how to add an extra dash of style to your kitchen quickly and easily.
Try temporary wallpaper. You may not be able to paint your kitchen, but that doesn't mean you can't add some color to your walls. Use temporary wallpaper to create a backsplash-like feature above your counters, or pick a single spot to dress up (like behind the oven) with a special pattern. The wallpaper can be easily removed whenever you want.
Add fresh accessories. If you don't want to even bother applying temporary wallpaper, here's an easier alternative: buy a few new accessories. Add an area rug in a natural fiber or dress up your countertop with a vintage vase that holds your cooking utensils.
Bring the greenery. Houseplants have a place in the kitchen, too! If you can find a small corner of unused counter space, fill it with a small succulent or a blooming plant. Pops of green add some life and color to your kitchen with minimal effort (especially if you opt for an easy-to-care-for succulent).
Update the hardware. You might want to check your lease before you do this one, but generally, it's fine to swap out your cabinet and drawer pulls for fresh pieces of hardware. It's just a matter of unscrewing the old knobs and screwing in the new ones. Shop thrift stores and vintage shops to find some truly unique options or look online for a more contemporary hardware set.
6 DIY Kitchen Upgrades Any Renter Can Make [rent.com]
10 Brilliant Ways to Improve Your Rental Kitchen [Kitchn]
5 Quick Tips to Updating A Rental Kitchen [Southern Living]