Heading to the Farmers' Market? Here's What to Buy (and Avoid)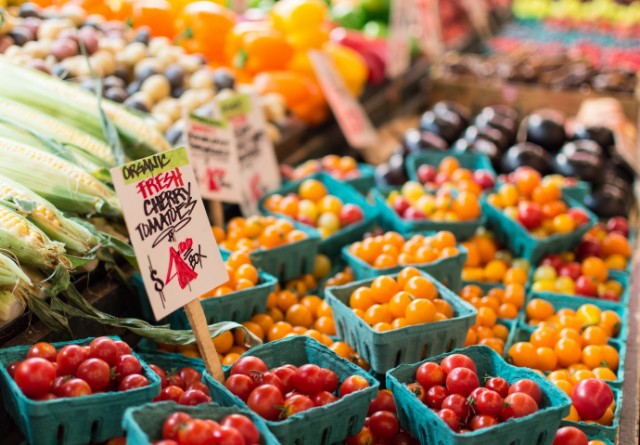 This time of year, farmers' markets around the country are opening back up for another season. You probably have a favorite market nearby that you frequent on sunny summer mornings. Although the food may be a bit more expensive than the market, the quality and freshness is worth a splurge—in most cases. These are the foods you should always grab at the farmers' market, and the ones you'd be better off getting at the store.
Don't miss:
Seasonal produce. One place where the supermarket simply can't compete with the farmers' market? In-season produce. Berries freshly plucked from the field just taste better than fruit shipped in from another country. When you see fresh, seasonal fruits and veggies, don't hesitate to grab them.

Free-range eggs. For the animal lover, buying eggs at the grocery store presents a quandary. Even "cage-free" and "free-range" eggs could come from chickens that aren't treated humanely. You can avoid that problem at the farmers' market, where you can actually chat with the farmer about how he treats his birds.

Hormone-free meats. You can also meet with local ranchers who take great care in raising their meats and ask them any questions you may have about the processes they use. Expect to find humanely raised, hormone- and antibiotic-free options at the farmers' market.
Forget about:
Out-of-season fruits and veggies. If you see produce that's out of season in your area, there's only one explanation: it was shipped in from another area. That means you're not getting fruit or vegetables that are any fresher than what you'll find at the grocery store, and they're probably more expensive at the market. Steer clear.

Baked goods, chocolates, and honey. It's not that you won't find high-quality, locally crafted versions of these items at the farmers' market. To the contrary, you almost definitely will. But in most cases, you can get better deals on them if you go directly to the source—a local farm store or stand. That way, you'll avoid any markup that vendors sometimes add to offset the cost of renting a farmers' market booth.

Clothing and knick-knacks. When you're at the market, it's important to keep your eye on the prize. You might see odds and ends, like clothing or crafts, but it's impossible to gauge the quality of these items unless you know and trust the vendors. Instead, focus on the local food—it's pretty easy to tell when a piece of produce is fresh!
15 Things to Buy at the Farmers' Market [Eat This Not That]
What NOT to Buy at a Farmers Market [WiseBread]
8 insider tips for shopping the farmers' market [Well+Good]